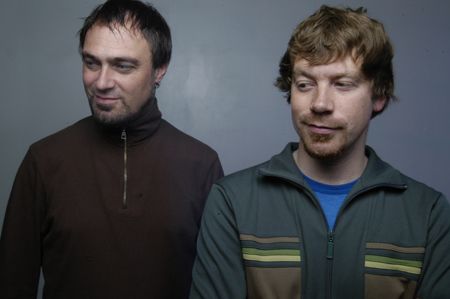 I don't know why I haven't posted anything about these guys before, because they rock so hard.
Be-that-as-it-may, here we go:
Keston & Westdal are simply amazing. The perfect duo to listen to whilst you're stone-cold chillin. Or if you prefer to shimmy-shake a little to the right you could probably get down with their sound, lord knows I have.
I saw them preform on Saturday night at the Varsity Theater and I'd have to say that it was one of there better shows to date. Probably had a lot to do with the venue, because it suits their style so well. Couches and beds line the walls, with candle lit tables filling in the rest. The stage is big enough to hold a 5+ peice band, and since there are only two of them they had plenty of space to throw down. So for all of you in Minneapolis they play every other Tuesday at the Kitty Cat Club in Dinkytown, which I hear will be switching to every other Thursdays. So check them out, because you will love them and get ready for their new release that comes out in January.